---
🍁Hey everyone, happy Friday! Hope you guys have fun plans for weekend outside of crypto. Last days of summer here in DC are coming to a close, so I'll be outside for at least an hour. If you're missing your CryptoAM fix, don't forget to join us on Telegram.
---
---
3 things you need to know:
One: NASDAQ joins the security token fest, confirming their intent to scope out a token exchange
As reported by the Block, NASDAQ is exploring the possibility of opening it's own securities token exchange:
U.S. exchange operator Nasdaq could gatecrash the crypto market with a new platform, according to people familiar with the situation.

Nasdaq is speaking with a number of firms as part of its efforts, including blockchain startup Symbiont. The people said the platform would issue tokenized securities as well as trade them. If such a platform were to successfully come to market it would join a number of firms offering such services including Polymath, tZero, and TrustToken.
Security tokens have been the "new hot thing" ever since ICO mania died down amidst. Many people have shifted their rallying cry from "decentralize the world" to "tokenize the world" as they've realized the whole decentralization thing is pretty hard. That being said, tokenization is a fascinating and powerful use case for blockchain technology, and we've already seen some major applications of tokenization such as the equity issuance on the blockchain of the famous Aspen property, St. Regis.
We're seeing traditional institutions like ICE and new start-ups like TZero fight for control here. In my view, it's more likely for traditional exchanges to win on the exchange building, and for the start-ups (like Polymath) to win significant market share in the issuance of security tokens.
Companies like Coinbase are also exploring the security token arena, getting approval from regulators to start listing and trading the tokens when they become publicly available.
Big picture: Of all things in the cryptocurrency space, security tokens seem to be the safest bet. A security token is at it's essence just an infrastructure upgrade to our current settlement and exchange system. Betting on infrastructure plays here is the move. Figuring out issuance in my opinion is more important than developing exchanges. They key of course, is backing the right horse.
Go deeper: How are security tokens changing the landscape?
---
Two: Nouriel Roubini goes head to head with Peter Van Valkenburg at a Senate hearing
Yesterday, the Senate heard both the bull and bear case for Bitcoin from two well respected (?) names. Nouriel Roubini, an economist best known for his predictions of the 2008 housing bubble, and Peter Van Valkenburg, the Coincenter head of research. The aim of the hearing was to "sort through the static" and get a better understanding of crypto and it's place in society.
Roubini's arguments centered mostly around the inefficiencies and "useless" nature of Bitcoin. He called bitcoin the "mother and father of all scams and [now busted] bubbles." Roubini also complained that:
Blockchain is overhyped

Bitcoin cannot scale and it is not decentralized

Only criminals and terrorists use bitcoin

Crypto is a libertarian's dream and not realistic

Utility tokens will return us to the Stone Age
One of my favorite quotes: "Even the Flintstones knew better than crypto — they used clamshells as their own one currency".
Roubinis full written testimonial can be found here.
Peter's arguments focused on the access to to finance that crypto opens up for historically disenfranchised populations, and blockchains ability to transform electronic payments, identity and the internet of things. Peter argued:
We are still experimenting with blockchain technology, and the next few years will see marked improvement in scaling and efficiency

There is a need for an the choice to be involved in an open financial system, where you do not have to rely on governments or banks

The internet lacks a native identity layer, and payments layer. Blockchain & crypto could help solve this issue.
Peter's full written testimonial can be found here.
Key takeaway: Stepping back from the arguments for a second, it's a great step forward to see the Senate requesting a hearing like this and to see some solid questions from our government on the state of cryptocurrency. It's dialogue like this that will lead to thoughtful legislation. The disheartening part of this dialogue was the ferocity and toxicity that accompanied Roubini's arguments. Of course, writing a newsletter called "CryptoAM" I am most certainly biased — but I believe there are better people to represent the bear case.
Go deeper: Check out Jake Chervinky's take on the debate
0/ The US Senate Banking Committee held a #CryptoCongress hearing this morning entitled "Exploring the Cryptocurrency and Blockchain Ecosystem." I went & watched live. Here are my thoughts. Thread.
---
Three: The Not-So-Killer Whales of Bitcoin
According to Chainalysis, we should be thanking the whales of Bitcoin for propping up the markets — not manipulating them down.
Intensive analysis of bitcoin's 32 largest wallets, however, shows these fears to be overblown. Our data demonstrates that Bitcoin whales are a diverse group, and only about a third of them are active traders. And while these trading whales certainly have the capability of executing transactions large enough to move the market, they have, on net, traded against the herd, buying on price declines. They appear, in aggregate, to have stabilized the market during recent price declines, rather than exacerbating price movements. This makes sense since these trading whales are professionals with no vested interest in abruptly tanking the market. When they require liquidity, traders are likely to use OTC trading platforms equipped to manage large transactions with minimal market disruption.
According to the firm, there are four types of "whales".
Traders: These whales regularly engage with exchanges to buy and sell bitcoin. With nine wallets controlling over 332,000 coins, worth just over $2 billion, whales who actively trade make up the largest category, but only about a third of total whale holdings. Traders are also relatively recent arrivals in the Bitcoin universe: most got into the market in 2017.

Miners/Early Adopters: The second largest group of whales entered the market much earlier, prior to 2017. This group includes 15 investors, also holding a total of 332,000 coins, worth a bit more than $2 billion. Current trading activity for this group is extremely low. Many of them made significant divestments in 2016 and 2017 as the bitcoin price soared and are now, we assume, extremely wealthy.

Lost: Lost whales make up another large part of the pod with five wallets holding over 212,000 coins, worth approximately $1.3 billion. These are wallets where the owner has lost their private keys and can no longer access their bitcoin. By definition, there have been no transactions at all from these whales since 2011. ‍

Criminals: This is the smallest segment amongst the whales with three wallets, over 125,000 coins and just short of $790 million in asset value. Two of these whales are connected with the Silk Road darknet market, while the other appears to be involved in money laundering.
But are these trading whales exacerbating volatility? The data suggests otherwise. During the major price declines of December 2017 and most of 2018, trading whales were actually net purchasers of bitcoin. Although our data doesn't capture on-exchange transactions, it does measure the net gain or loss of bitcoin in these wallets. That net activity demonstrates that trading whales were not selling off bitcoin in any mass amount, but rather were net receivers of bitcoin from exchanges in late 2016 and 2017. This indicates that trading whales were, in aggregate, buying on declines and, consequently, were a stabilizing, rather than destabilizing factor in the market, as shown in the chart below"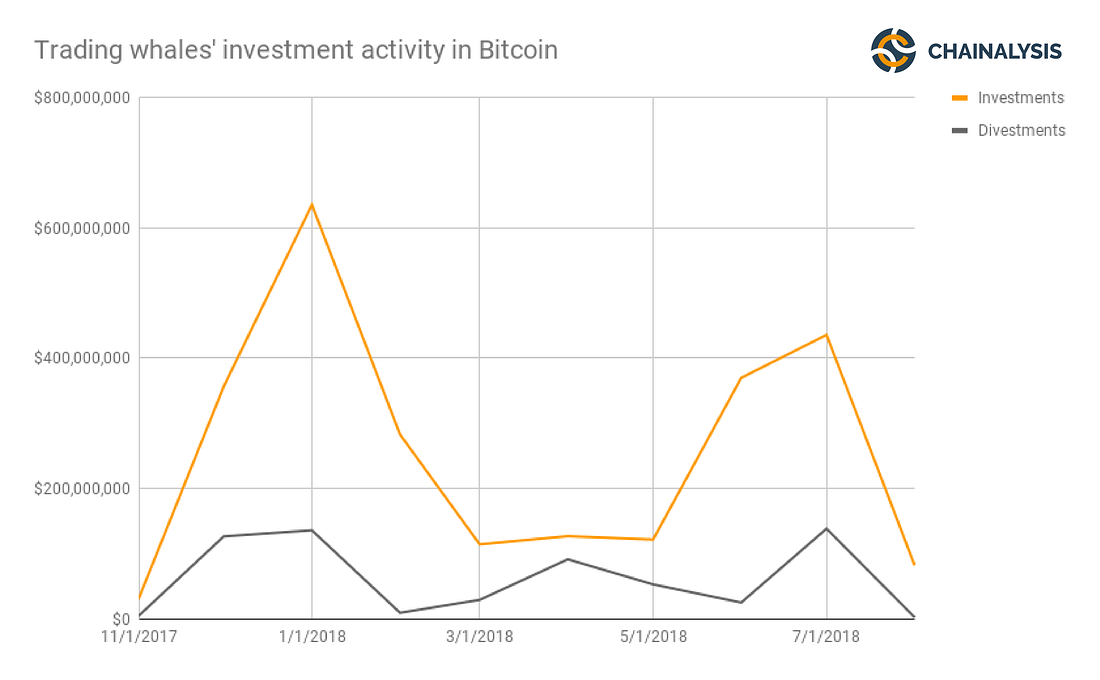 Go further: Read the full report by Chainalysis
---
Also in the news:
---
Market Outlook:
Quick Take
Direction: We're still currently locked in a tight range, between 6180 and 6215. Looking for a 1h candle close above/below the ranges to confirm a direction, but I'm leaning bullish due to alt performance the the rebounding of traditional markets over the past day. This weekend will likely see sideways actions for some time. Also, F&G is incredibly bullish, making me believe a bounce is more likely than further downside action here.
Key Support: 6180
Key Resistance: 6215
Actions: I will play the breakout on either side of 6215 (will go long if we break above) or 6180 (will go short if we break below). I've taken a small long which I will add to on a breakout, due to the bullish F&G noted below.
Altcoins: Alts are looking stronger this time around, and were looking much weaker the last time we broke down. This is an overall bullish sign, and I believe in the next 2-3 months we will see significant appreciation from select alts that have found a price floor. Look for coins that have bottomed out, but historically have reacted hard. I'm looking at BNB, NPXS, and all the coinbase potential additions like XLM, ADA, etc.
Fear & Greed
Haven't seen such a stark difference in day to day F&G in a very long time. This is a very bullish sign, and points to a bounce soon.
Here's a reminder of what these criteria mean
---

There's a big problem with crypto trading. Too many fraudulent actors. People actually take trade signals from random people in twitter— with no way to vet anything.
CoinSavage is the platform to change all of that. They have built a fantastic (and free) platform where all portfolios, trades, and ideas are open sourced and timestamped. No more hindsight TA, now you can actually see for yourself if people are performing, and prove to your audience you know what you're talking about.
---
Around the corner:
---
What I'm thinking today:
Financial Stability Board Report On CryptoAssets
Tl;dr: Too few people use digital currencies for them to really threaten the world's financial stability.
For those that don't know (which included me about an hour ago), the Financial Stability Board (FSB), is an international body that keeps tabs on the global financial system and makes recommendations to the G20 regarding, well, financial stability.
Although their conclusion wasn't of particular interest, they mentioned that the markets are developing so quickly that "vigilant monitoring" is needed. I'd suggest checking out the report, as it has some really interesting points regarding the risks of cryptoassets and their impacts on the overall financial system.
Market liquidity risks: A number of factors may contribute to illiquid and fragile markets in crypto-assets and limit the ability of participants to buy or sell crypto-assets. Ownership of crypto-assets appears to be concentrated among relatively few market participants, limiting market depth and reducing the capacity of markets to accommodate large trading volumes. Illiquid markets may also exacerbate risks from volatility.

Volatility risks: The prices of crypto-assets have been highly volatile. Volatility is especially relevant in the case of assets that are not backed by any contractual claim, since their value is not derived from the value of such underlying claim but is rather subject to speculation. The price volatility of the top two crypto-assets by market capitalization was between six and 13 times higher than that of the euro, gold and the S&P 500 US equities index as of 4 October 2018

Leverage risks: As with any financial asset, positions in crypto-assets can present greater risks to holders and their creditors if the positions involve leverage. Leverage may magnify volatility and transmission of risks, as it indicates that investors have less equity to absorb losses from market movements. These losses can then spread to other entities. Information about the role of leverage in crypto-asset markets is incomplete. According to one recent survey, nearly 20% of crypto-asset owners used debt to finance purchases. (Crazy!)

Mining Risks: There are concerns about the long-term viability of 'mining'-based systems, not least because the energy consumption may not be sustainable if the size of the crypto-assets market grows. Similarly, returns to scale in mining can lead to the creation of concentrated mining pools that have substantial control over a crypto-asset.

Tech & Cybersecurity risks: Many crypto-asset networks have limited bandwidth, or lack the ability to quickly process large numbers of transactions at the same time. This leaves them susceptible to operational challenges from both targeted attacks and relatively benign applications. Decentralization and lack of or inadequate governance makes it difficult to resolve technological limitations or errors and may lead to uncertainty and "hard forks" by a subset of miners.
---
If you ❤️ our newsletter, tell your friends about us!
---
CryptoAM is a Ledger Group project. We offer consultancy, advisory and research services for established companies and start-ups interested in the blockchain & digital asset space.