☀️Happy Tuesday morning CryptoAM. We're looking at a market this morning that's on the cusp of a full bull run. This market feels radically different from the desperation of May 2018 leading up to Consensus, but don't let that feeling of suppressed joy get in the way of rational and objective thought.
This market requires just as much caution, patience and understanding as last years market did. The ones who waited, watched, and acted survived. Nothing has changed. Wait, watch, and act.
---
---
Three things you need to know:
One: Fidelity to Offer Crypto Trading to Institutions
The world's fourth largest asset management fund, Fidelity Investments, is set to roll out a cryptocurrency trading service in the coming weeks according to Bloomberg. The offering adds to the firm's custody service for digital asset holders which begun earlier this year.

The details:
Fidelity will act as an agent to buy and sell Bitcoin on behalf of institutional clients. These clients include pensions, hedge funds, and family offices.

Only targets institutional customers unlike Robinhood and E*Trade that service retail investors.

No other digital assets aside from Bitcoin will be offered initially.

Why this matters: Trust. If you're a traditional institutional investor who doesn't follow crypto closely, having a big name like Fidelity offering crypto trading is encouraging. It can help nudge these investors to allocate small portions of their portfolios towards digital assets - something that the Wall Street facing firms in the crypto industry have been pushing hard for.
Most important, Fidelity offers a way for the more forward thinking people at institutions to sell their superiors on the idea of Bitcoin. Previously, there was no qualified custodian or any trading platform (besides the CME) that would be deeply trusted by a career executive in finance. People are keenly attuned to reputational risk, and they definitely do not want to explain that they "lost" bitcoin in a hack of Coinbase, or BitGo, or another relatively new company. They are definitely going to be more comfortable selling the idea of Fidelity.

Great, but remember that 22% of institutional investors already have exposure to digital assets, according to another recent Fidelity survey. Therefore it's unlikely to be a sudden rush of new institutions to the market that push prices upwards. Instead it's more likely that prices increase via existing institutions in crypto accumulating assets, combined with a slow trickle of new institutions entering the market as players like Fidelity offer more options to become involved.

Context: Fidelity has USD$2.46 trillion in assets under management. The entire Bitcoin market cap is slightly over $100 billion.

---
Two: Alkemi announces $16 million liquidity pool

A lack of liquidity in the crypto markets is problematic for a host of reasons. It prevents the overall growth and adoption of crypto products and services. Crypto exchanges often try to address this liquidity problem and the spread on their order books through interexchange arbitrage, exposing them to counterparty risks and costs.

Enter Toronto based startup Alkemi, which last Wednesday unveiled a $16 million liquidity pool for its decentralized protocol which addresses liquidity problems in crypto markets. This liquidity pool is non-custodial, meaning Alkemi has no control over the assets in the protocol; users hold their own private keys.

How it works (heavily simplified):
Liquidity providers (large token treasuries initially, retail users in the future), connect their wallets to smart contracts via the Alkemi app.

The average price of an asset (e.g. BTC) is collected across exchanges that choose to participate and used as the price to work towards.

The liquidity pool can then be used to address price inefficiencies on exchange order books, ensuring that prices across participating exchanges are the same.
Alkemi acts as the settlement mechanism here; ensuring full decentralization with revenues being shared between all stakeholders.

The significance of $16 million: Once the Alkemi protocol is deployed this would put the company in 3rd place in the DeFi rankings, ahead of other prominent projects such as Dharma, UniSwap and Augur.
Source: DeFi Pulse

Check out the Alkemi Open Value Manifesto.
Alkemi is another product in a long line of fascinating DeFi protocols launching. If you haven't already, I would take a look at UMA protocol. They're focusing on launching a myriad of financial derivatives on the blockchain and are doing a stellar job of it too.
For the other side of things, check out this video of Arthur Hayes. He has persuasive arguments against decentralized exchanges and listening to them will sharpen own arguments:
*Disclaimer: I worked closely with the Alkemi team throughout the Alchemist Techstars Blockchain Accelerator (Zac).
---
Three: Ethereum Futures are Coming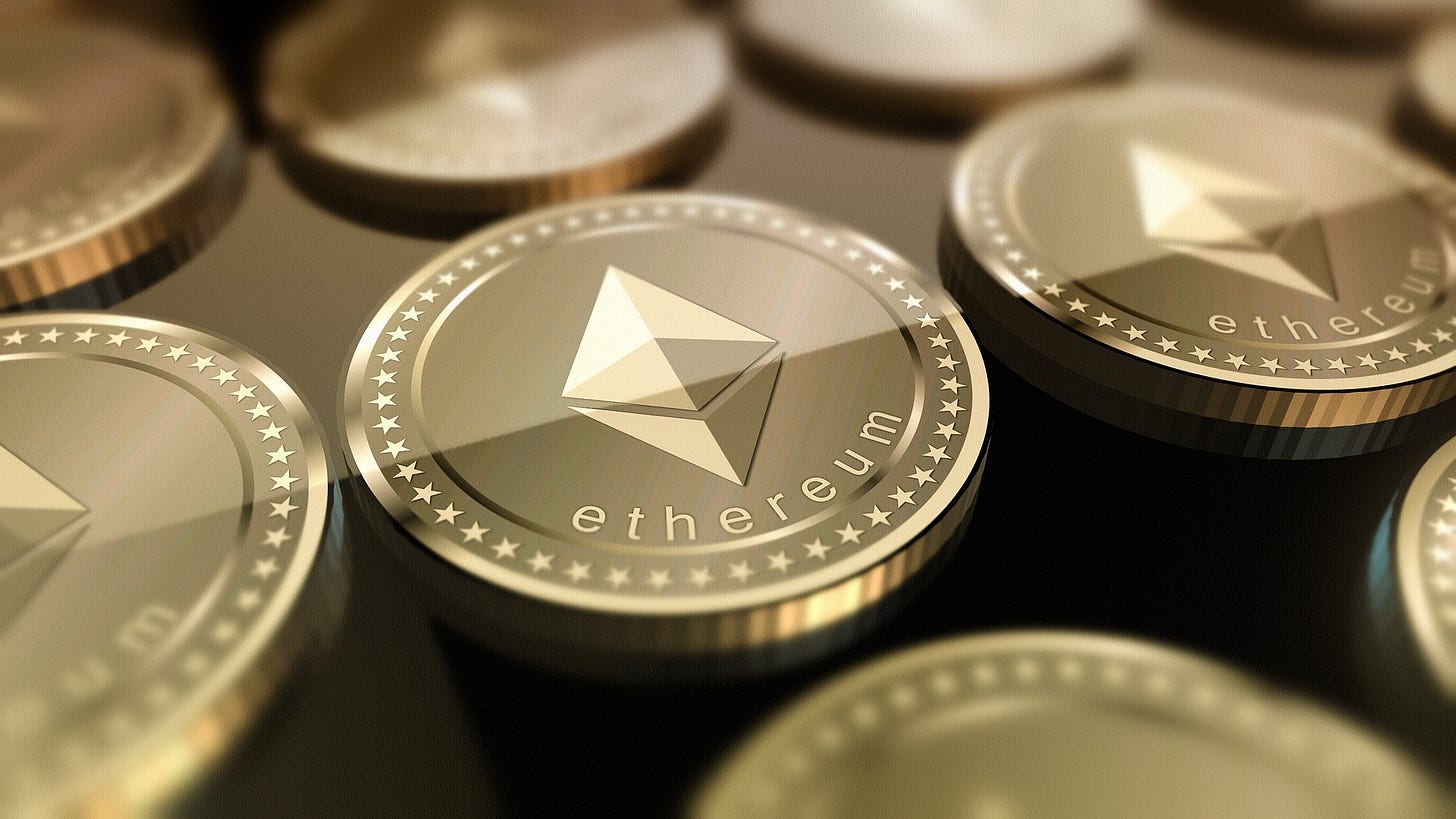 Ethereum saw a significant uptick after the article by Coindesk claimed that Ethereum futures were close according to a senior CFTC official.
The money quote:
"I think we can get comfortable with an ether derivative being under our jurisdiction," said the person, who did not want to be identified because the regulator does not typically publicize decisions to adopt new products."

We like to talk a lot about infrastructure here, and the benefits that infrastructure will bring to the markets. Well, here it is. More infrastructure coming your way.
Up through the announcement of Bitcoin futures, Bitcoin rallied significantly on the speculation and on the approval of BTC futures. It's likely that much of the same will happen with Ethereum, culminating in a blow-off top and decline after the futures are announced.
Based on my personal experiences with regulators (which is a lot…since I lived in DC for a year while working on crypto… ), the CFTC seems infinitely more comfortable than the SEC with cryptocurrencies and are more open to working with product issuers especially when the products are based on Bitcoin.
The SEC takes a harder look at ICO's and retail scams, and generally devotes less mindshare to the Bitcoin/Ethereum question. It's more likely than not that along with the launch of Ethereum futures we will get confirmation from the CFTC that they consider Ethereum a commodity, which would also be a great boon for the Ethereum price.
---
Also in the news:

---
One fun thing:
In case you forgot how far we have to go, check out this great quote from a Nobel prize winning economist. I wonder though, what's his plan for how to shut crypto down is?

Check out the video for more fun quotes.
---
Market Outlook:
Quick Take
Overall Market:
On February 6th, 2018 Bitcoin experienced one of the sharpest collapses in recent memory, dropping from a high of 7948 to a low of 5873, before closing the day at 7643. At the time of writing, Bitcoin is trading at 5903 — a smidge above that February low.
Here are the prices (low's) of other assets during that time:
It's been a slow and painful bleed for most altcoins. If you look at the charts, you'll see that their BTC ratios were rarely sharply down on any given day but rather they experienced a slow decline in their ratios. If you've heard the parable about the frog in boiling water, you know exactly what most altcoin holders felt throughout the 2018 bear.
Something to keep in mind. Bitcoin dominance functions similarly to the S&P, in that up days are far more frequent but down days are sharp and severe. Altcoins tend to have extremely right skewed returns, meaning that they move upwards extremely fast. It's generally +EV to hold/accumulate altcoin positions throughout bleeding as they often far eclipse previous highs during runs.
The way to understand this (and to use this) is by looking at market cycles:
The bull run is usually started by Bitcoin posting strength.

What comes next is a few alt coins (such as ETH and XRP in 2017) leading the charge up and shaving off Bitcoin dominance.

Then, at the peak of the bull will come the part called "altseason" where profit spills over into altcoins.

In the '16-'17 run this BTC->Major Alts-> Minor Alts happened twice before the end of the last bull run. It's not unlikely for it to happen more than once before the end of the longer cycle.
This is a classic cycle. If the market you are active in begins to do well, you'll start losing interest in the appreciation of the major assets as their returns will generally be in line with overall market appreciation. As the perceived risk of holding a position in the market goes down you begin believe to that you are not exposing yourself to enough price risk. So you end up seeking out additional risk.
Personally on every major bleed this cycle I have been content to enter into altcoin positions at key support levels. My view is that the market is entering the bull phase of the 4th cycle of Bitcoin, and that in the coming months we will see a reinvigorated market. It's difficult to time exactly when "alt-season" will appear, but know that the cycles are generally longer than expected and happen more swiftly than expected. On the chart below, BTC dominance gained for a solid 6 months before being wiped out in the span of 3 weeks.
Direction: We gapped up here. Low volume generally means that price in this area was not fully "agreed" upon by the market. Generally this means price punches through or falls through quickly. The fact that we have stayed in this area means we will be experiencing a lot of chop and then violent movement in one direction.
For Bitcoin, I don't know what to expect. If I had to put probabilities on it, I'd say 70% chance we punch through 6k and 30% chance we drop to 5200 within a week.
If we break 6000 and hold for > 1 hr the likelihood of gapping up to the 6250 level is very high.
The options market is pricing this rally well.
Last week at 5300, the probability of ending December above 10k was 20%. This week at 5900, the probability is 25%.
Key Support: 5780, 5700
Key Resistance: 6000, 6270
---
What I'm thinking today:
Made this graph yesterday. Long Bitcoin, long the ocean (not financial advice).
---
If you ❤️ our newsletter, tell your friends about us!
---
Nothing written in CryptoAM is legal or investment advice and should not be taken as such. CryptoAM does not make any guarantee or other promise as to any results that may be obtained from using our content. No one should make any investment decision without first consulting his or her own financial advisor and conducting his or her own research and due diligence.
---