---
Thanks to our Sponsor - Cogent Law Group
Cogent Law Group LLP is a full-service business law firm with a particular focus on advising businesses in the cryptocurrency and blockchain sectors. Contact them for a free consultation!*
---
---
3 things you need to know:
One: Australian Stock Exchange's migration to blockchain could eat into $23 billion worth of costs. It is estimated that large investors pay ~1.2% of their position size in fees for expenses related to settling and clearing transactions. The new blockchain-based system, which is replacing the old CHESS system for clearing and settlement of trades, is being developed by Digital Asset Holdings. It is expected to go live in two years.
Two: Coinbase has seen an 83% decrease in trading volume since its peak in January 2018. Coinbase's decreasing volume can be attributed to a few factors including (but not limited to):
Three: Chinese hackers arrested for theft of $87 Million worth of cryptocurrencies. The police were tipped off of their activities by one victim who had $14.5 million stolen from his computer. Over the course of three months, the police were able to trace the origin of the hacks by employing the help of various internet companies.
---
Also in the news:
---
Want to stay up to date on news even after CryptoAM?

Check out Cryptocurrency newsfeed, a curated (and incredibly fast) crypto news source that has become invaluable for helping us make event-based trades.*
---
Market Outlook:
Quick Take
We've seen some sideways trading in recent sessions after (likely) finding a local bottom in the 6k area. BTC has been trading in a tight band between ~6.3k and ~6.6k, with each level being a key short-term support or resistance, respectively. Until some event violently drives price action in one direction or the other, we expect continued sideways price action between these levels.
A strong break into the yellow box and a retest of 6.8k becomes likely. If we break down through the yellow box, 6k becomes likely. I'm buying resistance and shorting support for the next move. Volume has been declining and an impulse move is coming any day.
Daily Chart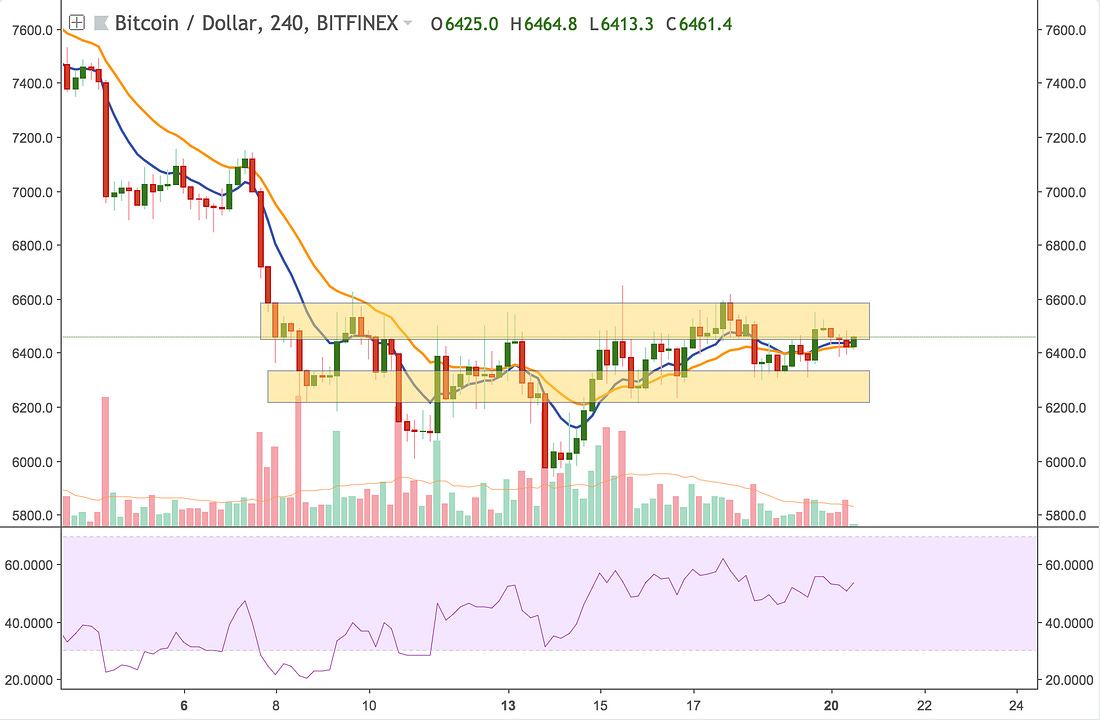 Fear & Greed
F&G suggests we are more likely to bounce here than breakdown. Momentum is picking up, and traders are now closing shorts at highest rate in the last month. Speculation is incredibly low right now, and I believe alts will run with BTC.
---
Around the corner:
---
What I'm reading today:
Is Financialization A Double-Edged Sword For Bitcoin And Cryptocurrencies?
Decentralized. Anti-government. Anti-bank. Libertarian. Cypherpunk. All words that one would have used to describe the cryptocurrency fanatics of 2013. Today? Not so much.
One of the funniest things about crypto is the increasing influence of traditional finance, which can be seen in the plethora of re-invented traditional finance products in the crypto space. We see things like crypto-banks, crypto-loans, crypto-brokerages, crypto-money market accounts...etc. It often seems as though we are just building the exact same traditional finance system -- but instead of being built around fiat, it's built around crypto. While some of these developments are objectively good, others are arguably detrimental to the ethos of cryptocurrency.
In this article, Caitlin Long goes over two types of financialization, one which she characterizes as good, the other bad. The first "good" type of financialization is liquidity from new entrants to the system who will all start offering services and building products around cryptocurrencies. The more people in the system providing liquidity, the better the system becomes. The second, "bad" type of financialization comes from debt based liquidity.
What should be understood before proceeding, is that the majority of our current financial system is debt based, and not equity based. What this means is, the majority of money that exists in this world is not actually held by the people who technically "own" that money. Rather, they actually own an IOU from a bank (or institution) that says "yes, we owe you this particular asset/amount of money, etc".
The worry about the second type is the financial system can actually create derivatives that are not backed 1-1 with physical assets, which is what happened during the 2008 crisis when credit default swaps (a type of derivative) grew to almost 10x the size of the underlying market. This created a situation where the derivatives markets moved the underlying…
Caitlin worries that a similar derivatives market would spring up around cryptocurrencies, and allow major institutions to "capture" cryptocurrencies.
Personally, I believe that what matters is the underlying. If a new financial institution is to be built around crypto, that's okay -- as the underlying money is sound. If you believe in the future of Bitcoin, it will benefit greatly from the increased exposure and ease of use that comes with financialization, regardless of the type. At the end of the day, as a crypto user you are able to exist to outside the system if you choose! That's the beauty!
---
If you ❤️ our newsletter, tell your friends about us!
* Sponsored content, to help us keep CryptoAM up and running. We only include products and services we have personally used and found value from.
---
Work with us if you want to support CryptoAM 👌
We're always looking to partner with fantastic projects and products in the crypto space. We've made a pledge never to promote ICO's to our audience, as our focus is to deliver top notch content. If you think you're delivering a truly good service, we'd love to partner with you!
Just reach out directly to me at @crypto_nomics on telegram, or email me at avi@ledgercapital.io
---

CryptoAM is a Ledger Group project. We offer consultancy, advisory and investing services for both established companies and start-ups interested in the blockchain & digital asset space.